The new Nex Flow X-Stream Liquid Super Separator uses a unique patent-pending design to remove 99.9 percent of liquid mist (including water and oil mist) from compressed air lines without the need of a replaceable filter element. Standard sizes are 9, 22 and 64 SCFM.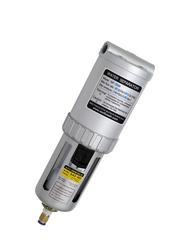 Unlike large upstream separators, these units are designed to be used upstream from an air gun, blow-off product or any device using compressed air and may be used in place of a standard air filter. If micron size is a concern, you can still use a standard water or oil filter, but the replaceable cartridge life will be dramatically extended, as the X-Stream Liquid Super Separator will remove the vast majority of the liquids and mist.
The units come complete with an automatic drain, have extremely minimal pressure loss and are virtually maintenance free. Only the automatic drain may be subject to wear and tear, and it is easily replaced.
Despite the use of driers at the compressor location, there can often still be condensation and moisture entrainment into air lines downstream of the compressor, causing havoc with cylinders, solenoid valves, tooling and blow-off and other pneumatically operated equipment. Traditional filters normally used can sometimes be overloaded, requiring frequent replacement of cartridges – a maintenance and downtime cost.
The Nex Flow Super Separator is placed upstream from the point of use and upstream from existing filters to remove the moisture and particulate. Existing filters may be replaced or simply kept in place for extra security, but the lifespan of their cartridges can be extended four to five times or more.
The Nex Flow Super Separator comes with a five-year warranty.
For more information, contact Nex Flow Air Products Corp. at www.nexflowair.com