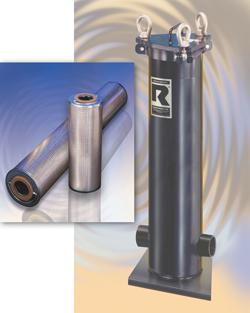 Rosedale Filtration Products has introduced its new 7180 series hydraulic lube filters for oil reclamation and maintenance operations. The 7180 series housings incorporate an eyenut cover that is easily removed, reducing time spent on cartridge change-out. The side-in/side-out piping arrangement is available in 1-, 1½- and 2-inch NPT connection sizes. Housings are electropolished, creating a smooth, easy-to-clean surface. The attached flat bottom makes the housing compact and easy to mount on equipment or on the floor.
With an absolute rating of 0.5 microns and a nominal rating of 100 microns, the 7180 series accepts single 718 or 736 style filter cartridges. They seal on the housing's elevated pedestal and are retained by a threaded post and cap assembly.
Other features include permanently piped housings that are opened without special tools, covers that are O-ring sealed, a 150-psi-rated housing and a ¼-inch NPT vent connection.
For more information, contact Rosedale Filtration Products at 1-800-821-5373 or www.rosedaleproducts.com.