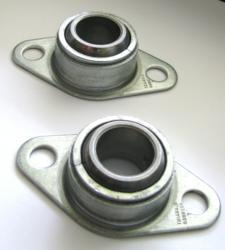 Triangle Manufacturing has introduced the option of impregnating bearing balls with an additive and a synthetic lubricant — Zonyl MP1100 and Chemlube 645. When combined, these lubricants can extend the life of the bearing while decreasing wear and weathering.
DuPont's technical information describes Zonyl MP1100 as a fluoroadditive that is a white, free-flowing PTFE powder. It can provide improved lubricity and increased wear resistance. When it is added to lubricants, it can enhance performance under severe or abnormal conditions.
This PTFE oil, along with Chemlube 645, a synthetic-impregnating lubricant, is beneficial because of the low evaporation rate that allows bearings in electric motors to last longer. This, combined with oxidation stability and a wide temperature range, provides an improved lifespan for any Triangle bearing. Chemlube also prevents oil seepage to extend motor life.
These additions to Triangle's high-quality sintered bearings will be beneficial to the automotive and agricultural industries where outdoor environments can pose hazards to bearings and limit bearing life.
These special-order bearing balls are available for purchase in high volume.
Located in Oshkosh, Wis., Triangle Manufacturing Company has used creative engineering, technical know-how and advanced automation to be the leader in fully customizable metal fabrication, product innovation and invention.