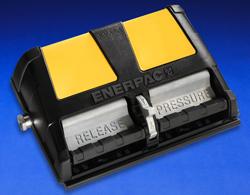 Enerpac recently introduced the XA-Series Air Driven Hydraulic Pumps to increase process efficiency and worker productivity by providing higher oil delivery. These 10,000-psi foot pumps deliver higher oil flow as well as variable oil flow and fine metering capabilities for precise control. These features, combined with an ergonomic design, offer high-quality performance with reduced operator fatigue for a broad range of applications.
"With this new pump, the time required to extend the cylinder or tool and build to maximum pressure has been considerably reduced," said Brian Alexander, Enerpac's global product manager. "Compared to the conventional air-over-hydraulic pumps, the XA-Series is up to two times faster. This speed advantage could save hundreds of dollars a year in labor."
The XA-Series' design gives the operator control of the hydraulic oil flow with two separate foot pedals for advance and retract. This allows users to continuously control the amount of oil flow and speed of the cylinder, making the pump an ideal solution for applications requiring accurate load positioning, aligning and controlled descent.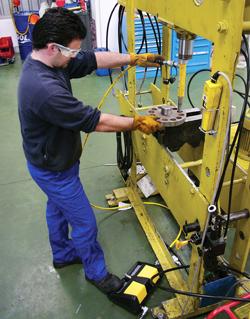 The advanced two-pedal design also offers the user a significant improvement on ergonomics and ease of use compared to conventional foot pumps, which require operators to balance their weight on one leg while operating the pump with the other, causing operator fatigue. By contrast, the pedals on the XA-Series are depressed using the balls of the feet, allowing the heels to remain in contact with the ground. Bodyweight is balanced evenly, improving operator stability and resulting in reduced fatigue and increased productivity.
Constructed for safety and durability, these hydraulic foot pumps are equipped with a pedal lock function for the retract position and an optional pedal safety guard, which protects against the occurrence of accidental activation. The completely sealed housing is manufactured from durable glass-filled nylon, while the closed oil reservoir prevents leakage and eliminates internal contamination from airborne particles.
For more information, visit www.enerpac.com/en.