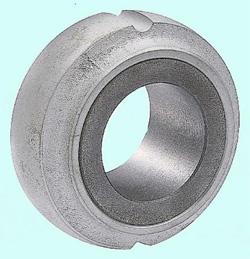 Graphite Metallizing Corporation has introduced Graphalloy 845 Spherical Inserts to replace traditional ball bearings in many high-temperature applications. Graphalloy, a graphite/metal alloy, is designed to operate without lubrication, which makes it especially suitable for operations where temperatures can reach or exceed 750 degrees F (400 degrees C).
The inserts are intended for use in standard pillow and flange blocks without the need to alter or redesign equipment. They are used in a variety of high-temperature applications including ovens, furnaces, conveyors, dampers and dryers as well as other environments where oil and grease cannot be used. Metric shaft sizes and stainless-steel housing and inserts are available along with FDA-accepted grades.
"Using Graphalloy 845 Spherical Inserts has proven time and time again that significant ROI, cost savings and reduced maintenance can be achieved, especially in difficult applications where high temperatures are a concern," said Eben Walker, general manager of Graphite Metallizing Corporation.
Other benefits of Graphalloy include a low coefficient of friction and dimensional stability. Graphalloy bushings also operate at longer intervals without the need for frequent replacement or maintenance, which helps reduce costly downtime.
For more information, visit www.graphalloy.com.