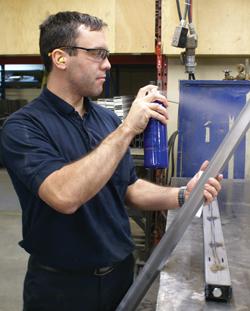 Walter Surface Technologies has introduced a new environmentally friendly surface cleaner and degreaser designed to replace toxic solvents in the preparation and cleaning of metallic surfaces.
An alternative to acetone or toluene for surface preparation, AF-CLEAN was engineered to clean and prepare metallic surfaces prior to painting, priming, coating, gluing, corrosion protection, as well as cleaning moulds for plastic injection. Compared to traditional solvents, AF-CLEAN is non-flammable, biodegradable and less volatile than toxic solvent compounds.
Since acetone evaporates up to 90 percent of its volume before it actually cleans, workers may find they need less AF-CLEAN liquid to clean a surface. AF-CLEAN's aluminum bottles can also be filled and refilled with Walter's Air Force automatic refilling station, which is propelled by compressed air, unlike empty aerosol cans that must be disposed of carefully and often at an additional cost.
AF-CLEAN marks the latest innovation from Walter's Bio-Circle Environmental Solutions division, which aims to create a cleaner, healthier and safer industrial work environment. The liquid is available in a 2.64-gallon bag-in-box and in a bulk 208-liter drum. For more information, visit www.walter.com.