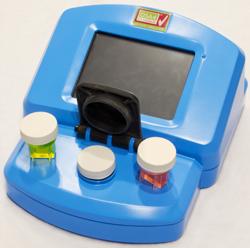 On-Site Analysis Inc. has introduced a new coolant analyzer that can perform nine diagnostic tests in less than a minute. With a touch of the screen, the OSA4 CoolCheck can determine the coolant formulation as well as detect problems within the cooling system.
This unique analyzer was designed to replace subjective test strips and expensive, time-consuming laboratory testing. It represents the latest advances in infrared spectrometry technology by instantly capturing data and comparing it to known norms, thereby alerting you to abnormal or severe coolant system conditions.
Incorporating an embedded XP Panel PC that is coupled with a dual-path multi-wave spectrometer, the high-tech analyzer not only conducts on-site tests on engine coolant but also comes with a small thermal printer that prints an easy-to-understand diagnostic report. The report identifies the type of coolant, boiling point, freeze point, clarity, contamination level, nitrite level, percent glycol-to-water mixture, color and the percent urea. The test data can be wirelessly transmitted to LubeTrak, On-Site Analysis' password-protected, web-based, data-mining, trending and storage tool.
The OSA4 CoolCheck requires no installation, training, cleanup, licensing fees or maintenance. Users can open the box, plug it in, insert a sample and begin testing. For more information, visit www.on-siteanalysis.com.