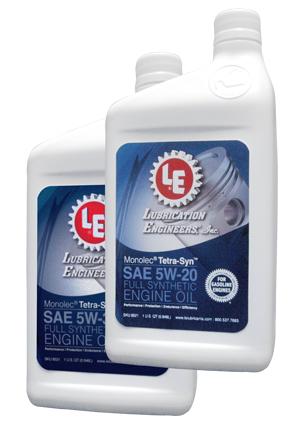 Lubrication Engineers (LE) Inc. has introduced a 100-percent-synthetic motor oil for gasoline engines. Monolec Tetra-Syn Engine Oil exhibits low volatility and low viscosity shear characteristics while also providing low- and high-temperature performance. In extremely low temperatures, its flow characteristics ensure a continuous flow of oil.
LE incorporated a premium additive package in the new oil, including its proprietary Monolec wear-reducing additive, to deliver fuel economy, protect emission systems, keep engines clean and keep deposits to a minimum.
The new oil protects metal from rust and corrosion, provides oxidation protection, and prevents formation of ash and other deposits. It also offers protection from the higher temperatures found in engines with turbochargers and superchargers.
Car enthusiasts and fleet managers should appreciate the oil's ability to keep engines running for longer periods while safely extending the time between oil changes. LE recommends the use of its oil analysis program to determine the optimum oil change intervals for specific vehicles or fleets.
Available in SAE 5W-20 and 5W-30 grades, Monolec Tetra-Syn Engine Oil exceeds the minimum standards set by the American Petroleum Institute (API) and most manufacturers. In many newer engines, it can improve fuel economy.
Monolec Tetra-Syn can also lower emissions and protect emission systems per API standards. It exceeds the "Resource Conserving" guidelines for API SN engine oils and is suitable for use with ethanol-containing gasoline up to E85.
"We formulated Monolec Tetra-Syn Engine Oil to provide the perfect balance of extended drain service, improved fuel economy, emission system protection and increased engine life," said John Sander, LE's vice president of technology. "In so doing, we created a product that truly conserves resources, including oil and gas, the air we breathe, the vehicle's components, and ultimately the owner's finances."
Typical applications for Monolec Tetra-Syn Engine Oil include personal passenger cars, vans, light trucks and vehicle fleets such as those used by municipalities and delivery companies. The oil offers performance suitable for use in most gasoline engines, including Honda, Ford, GM, Toyota, Chrysler, Nissan and Hyundai/Kia. For more information, visit www.LElubricants.com.