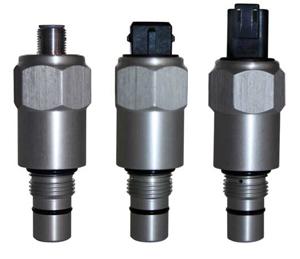 Schroeder Industries recently introduced its MS17, MS18 and MS19 electrical dirt alarm indicators for use with a wide range of hydraulic filters.
Suitable for mobile and industrial applications requiring the connection of indicators with a static working pressure of less than 6,000 psi (4,000 psi cyclic pressure), the new indicators are engineered to provide an accurate indication of the need to change an element in order to help maintain fluid cleanliness.
The crimped body design eliminates the need for the four bolts used in the design of existing electrical dirt alarm indicators, reducing cost and assembly time. A thermal lockout option also is available on all three indicators to prevent false indications during cold starts.
The MS17 incorporates a four-pin Brad Harrison connector, while the MS18 has a two-pole AMP Junior Power Timer connector (AMP-JPT-P2), and the MS19 features a two-pole Deutsch connector (DT 04-2P). The MS18 and MS19 are also offered with a greater DC current range.
All three indicators are available normally open or closed in both high- and low-current micro-switch designs and fit the standard indicator port of most Schroeder return-line filters.
For more information, visit www.schroederindustries.com.