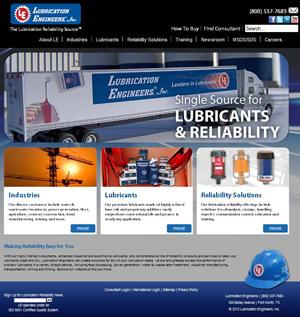 Lubrication Engineers (LE) Inc. recently launched a new website at www.LElubricants.com, offering a wealth of information to help customers with their decision-making process.
The most noticeable benefit of the new site is product information being easy to find upfront on product pages rather than buried in PDFs, which also makes the content more search-engine friendly.
Visitor numbers have remained consistently high since the new site went live. One week after turning the switch, LE experienced its highest per-day visitor number in company history. In addition, the average number of page views per visitor has doubled, as has the average length of time each visitor spends on the site.
"Our goal was to create a platform that allowed us to provide more information to the customer and make it easy for them to find what they're looking for," said Gregg Barnes, Internet services manager. "The feedback we are getting is that the site is significantly faster and simpler to navigate than our previous site. Even better, we are hearing that it is a step ahead of other industrial companies' websites in content and format."
The navigational structure of the new site gives visitors the flexibility to search for solutions by industry or by product. Solutions for 17 major industries are highlighted, including power generation, wastewater, food, fleet, construction, cement, steel, mining and agriculture. Future plans call for the addition of specific application pages.
Visitors also can search for a solution by lubricant category. Among the 15 lubricant categories featured are greases, gear oils, food-grade lubricants, turbine oils, engine oils, synthetic lubricants, wire-rope lubricants and open-gear lubricants.
In addition to information-delivery improvements, LE has created a more dynamic, visual experience with sophisticated use of colors, photos and overall design. Another upgrade is RFQ capability, with visitors able to create a "Request for Quote" directly from product pages. A "Reliability Solutions" section has also been added to the home page.
"We brought the reliability piece of our business out front to be more prominent," Barnes said. "This change better reflects our current philosophy, which has evolved from offering parts and pieces to providing an overall solution."
For more information, visit www.LElubricants.com.