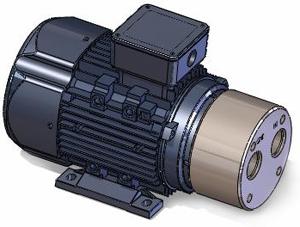 Varna Products recently expanded its Extreme Duty, Whisper Vane XD Line of pumps with the introduction of the Model XD9.
The latest model is a 9-gallon-per-minute, self-priming vane pump driven by an industrial 1-hp motor with a built-in fan. It is rated for 230 volts alternating current (VAC)/460 VAC at 60 hertz and 200 VAC/400 VAC at 50 hertz up to 100 psi.
The pump's compact design is ideal for space-constrained applications. Like the other models in the XD line, the XD9 can handle challenging applications with low temperatures and highly viscous fluids. The head can be rotated on the motor to align the pump ports for best installation. The mounting base can also be removed and reinstalled to change the integrated wire-connection box.
For more information, visit www.varnaproducts.com.