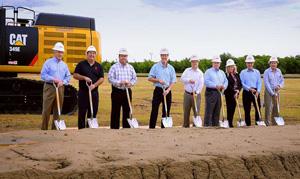 The Whitmore Manufacturing Co. recently held a groundbreaking ceremony launching construction of a facility expansion of approximately 120,000 square feet in Rockwall, Texas.
The expansion will include a new corporate office area, research and development, a production area for the Air Sentry division and more warehouse space.
In addition, Whitmore recently acquired QHi Rail Ltd. and will be manufacturing rail lubrication equipment in Rockwall for the North American market under the name Whitmore Rail.
"We are very pleased to be investing in this expansion," said Jeff Kilpatrick, Whitmore president and chief executive officer. "Our Rockwall headquarters will be doubling in size to more than 200,000 square feet, and we will be making improvements to our existing production and laboratory facilities as well."
When completed, the expansion will enable Whitmore to provide increased production, more research and development, and greater manufacturing and distribution capabilities. Whitmore anticipates adding 20 to 40 employees over the next three to five years. The building project is expected to be completed in the summer of 2013.
The Whitmore Manufacturing Co., which consists of Whitmores, KATS Coatings, Horizon Lubricants and Air Sentry, creates component-protection technology through the manufacturing of specialized lubricants, coatings, sealants and contamination control solutions for a variety of industries on a global basis.
For more information, visit www.whitmores.com.