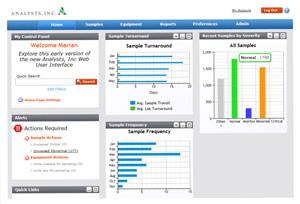 After two years in development, Analysts Inc. recently launched its Next Generation Lube Oil Analysis Management System (LOAMS). The state-of-the-art user interface was created to give maintenance personnel real-time control of their oil analysis program.
LOAMS incorporates a customizable home page that users can configure to ensure seamless management of their entire oil analysis program. The platform was designed based on the real-world requirements of oil analysis end users. The ability to efficiently perform records maintenance, design sampling routes, implement bar coding, and print sample labels and reports can significantly reduce the time and cost associated with managing a testing program.
Data-mining features allow users to statistically compare the performance of a single unit or grouping of equipment by make, model or lubricant brand against other units or groups within the database. Long-term performance trends can be identified in custom reports that can be printed or exported to other software programs.
Analysts Inc., which provides oil, coolant and fuel analysis to industrial, fleet, power generation and petrochemical markets, is the nation's largest and oldest oil analysis testing company with seven laboratories in the United, States, Mexico and Japan.
For more information on Next-Gen LOAMS as well as a video preview, visit http://analystsinc.com.www8.eonconnect.com/LOAMS_video/LOAMS-video.html.