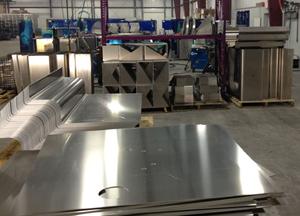 The IFH Group Inc. recently completed its second major expansion, increasing the company's overall square footage from 106,000 to more than 121,000 under one roof.
The most recent addition houses IFH's non-ferrous manufacturing lines, expanding the company's capability for the production of aluminum sheet steel for its reservoirs, tanks and other custom fabrications.
The addition has enabled IFH to streamline all areas of production from incoming raw materials to the shipment of completed fabrications and tanks in order to shorten lead times to customers.
"This also enables us to expand our ferrous manufacturing by creating additional capacity for steel, stainless steel and aluminized steel, increasing our capability for supplying large fabrications and tanks," said Keith Ellefsen, president of IFH. "We have dedicated prototyping cells, dedicated employee weld testing cells and have added four major welding cells with large-capacity material handling equipment. There are many more improvements on the horizon that will be completed by the end of the second quarter of 2013."
Established in 1945, the IFH Group designs and manufactures custom hydraulic oil reservoirs and fuel tanks for mobile on- and off-road equipment as well as fluid storage and dispensing systems for oil and lube rooms and mobile lubrication carts. For more information, visit www.ifhgroup.com.