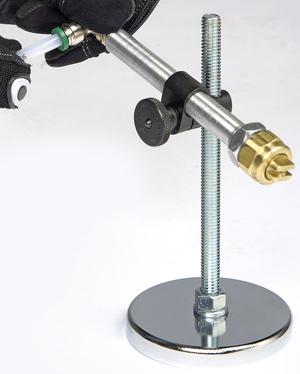 Industrial Innovations recently announced the availability of a zero-drip nozzle to help eliminate costly waste in lubricant application.
The Z-nozzle is 99.5-percent drip-free and features a magnetic base that secures the nozzle tightly to its mount yet can easily be moved and repositioned as needed for various applications.
Designed to work with the Spra-Rite spray lubrication system, the Z-drip spray nozzles combine low pressure with high velocity to produce an effective means of applying lubricants.
Fluid application is controlled through pressure, time, degree of pattern and electronic programming of a simple HMI. The design provides easy interchangeability of the spray tips for a variety of spray angles and volumes, ranging from a 25- to 110-degree angle and 0.1 to 0.4 gallons per minute.
The spray nozzles are available in brass, stainless steel or plastic with tubing choices of 1/8-, 3/16- and 1/4-inch diameters.
Based in Wyoming, Mich., Industrial Innovations provides industrial lubrication equipment for operation in metalworking industries including die-casting, metal-forming, machining and stamping. For more information, visit www.industrialinnovations.com.