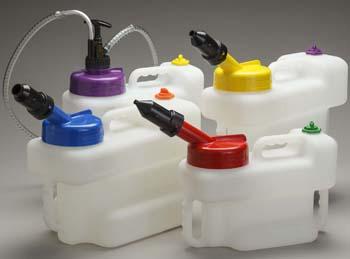 Trico Corporation recently launched a new line of oil containers designed to identify, store, transport and dispense lubricants in a wide variety of applications.
The Spectrum Oil Containers promote a fully integrated visual lubrication-management system using color-coded lids and writable "contents" labels to identify lubricant type. The containers help keep lubricants free from dust, dirt, water and other machine-damaging contaminants while reducing the risk of lubricant misapplication by ensuring the right lubricant is delivered to the right equipment each time.
Available in 2-, 3- and 4-gallon sizes, each container is semi-transparent with molded volume markings in gallons and liters to offer visual monitoring of fluid levels. Built with high-density polyethylene to perform in hostile environments, the uniquely contoured containers fit the forearm of the user to help distribute the container's weight when pouring and have a wide opening for rapid no-spill filling. Three handles with contoured finger grips are included for a comfortable and secure hold. The nozzles also contain textured areas that provide a slip-resistant grip.
The lids feature a Buna-N O-ring to seal lubricant from the external environment and come in four different styles and 10 colors. A secondary color option is also available with the breather vent, allowing up to 100 color options.
For more information, visit www.tricocorp.com.