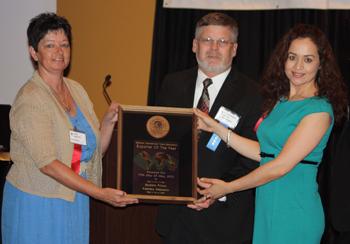 Baldwin Filters was recently named the "Exporter of the Year" by the Midwest International Trade Association (MITA) at its 2013 World Trade Conference in La Vista, Neb.
The MITA Exporter of the Year award is presented to companies that demonstrate both individual company accomplishments and the importance and benefits of trade to the wider community through outstanding achievement in the global marketplace.
Nebraska Lt. Gov. Lavon Heidemann recognized the company's accomplishments, noting that the company has grown from one man making filters in his garage to a worldwide exporter.
Baldwin products are shipped to 65 different ports around the globe. The company has been expanding its global reach at a rapid pace over the last 20 years.
"We are proud to have earned this honor," said Brent Yaw, Baldwin's vice president of international sales. "Our company is geared to support equipment and customers around the world. Exporting our product has been and will continue to be an integral part of our growth plan."
A CLARCOR company headquartered in Kearney, Neb., Baldwin Filters produces more than 6,000 lube, air, fuel, hydraulic, coolant and transmission filtration products for most applications. For more information, visit www.baldwinfilter.com.