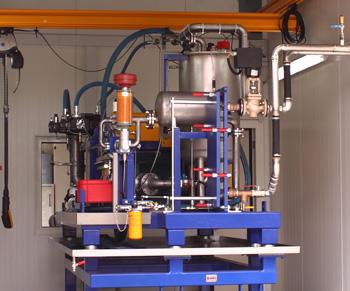 Rhein Chemie recently opened a new installation to test hydraulic additive packages at its Technical Competence Center in Mannheim, Germany. The system tests the performance of an additive package in combination with a basic oil in a hybrid pump from Parker Denison. Rhein Chemie invested nearly $1 million in the new testing installation.
"The investment is a clear sign of our commitment to developing and strengthening our product portfolio in the industrial lubricant additives segment, and it will further advance our growth in the hydraulic segment," said Philipp Junge, head of the lubricants business line at Rhein Chemie. "Our global competence in developing additives for hydraulic liquids is concentrated in our technology center in Mannheim. In our pump testing installation, we test additive packages against the most rigorous and globally recognized OEM specification for hydraulic oils, the HF-0. Furthermore, we use this installation to conduct tests on behalf of our customers."
According to Rhein Chemie, only 12 of the special testing installations are in use worldwide. The complex tests each take four to five weeks.
Headquartered in Mannheim, Germany, with production facilities in Europe, Asia and North and South America, Rhein Chemie develops, produces and sells additives, specialty chemicals and service products for the rubber, lubricant and plastics industries.
For more information, visit www.rheinchemie.com.