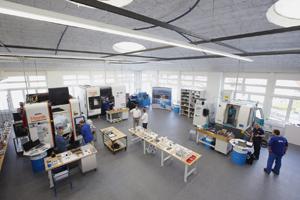 Blaser Swisslube recently expanded its technology center at its headquarters in Hasle-Rüegsau, Switzerland. The facility, which occupies approximately 3,200 square feet of floor space, features two 5-axis machining centers, one turning and milling center, a 5-axis tool-grinding machine and two new CAD/CAM workplaces.
Designed to provide optimum conditions for simulating and testing the latest machining technologies, the upgraded technology center not only will be used for testing metalworking fluids but also to recreate machining operations of customers and partners.
In collaboration with customers, universities, colleges of advanced technology or trade associations, Blaser tests innovative machining technologies and the newest materials with various metalworking fluids, after which the processes, as well as the cutting and grinding fluids, can be optimized and developed further.
In addition to conducting tests on recently developed metalworking fluids for the machining of a range of materials and the simulation of production situations, the new infrastructure also will enable machining seminars to be delivered from Blaser headquarters.
Founded in 1936 and employing more than 500 people worldwide, Blaser Swisslube develops, produces and sells cutting and grinding fluids to optimize productivity, economic efficiency and the quality of machining operations. For more information, visit www.blaser.com.