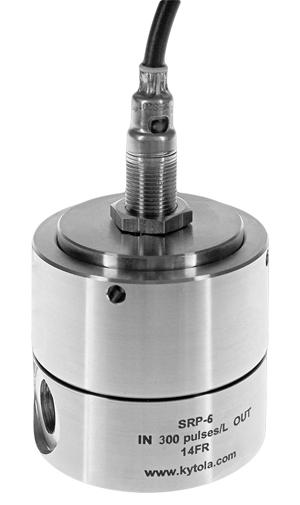 Kytola recently introduced a new addition to its industrial oval gear line of flow meters. Specially designed for accurate flow measurement of liquids in demanding industrial environments, the stainless-steel model SRP offers a solution for process control in industries such as automotive, chemical, oil and gas, mining, pulp and paper, and steel mills.
The positive-displacement flow meter is suitable for a wide range of applications and delivers excellent levels of linear and repeatable accuracy. It shows the correct flow rate regardless of the liquid temperature, viscosity change or pulsating flow and provides substantially lower pressure drop than conventional gear flow meters.
Engineered for a wide range of flow rates from 0.25 to 150 liters per minute with a maximum pressure rating up to 600 bar, the SRP is available in connection sizes from 1/4 to 1 inch and has an accuracy of 0.5 percent. It can also be installed vertically or horizontally in areas where space is limited.
Other features include a choice of sensor, gear material and connection type. Due to its durable construction, the SRP is ideal for use in the harshest environment for applications that use chemicals, additives, solvents, oils and fuels.
For more information, visit www.kytola.com.