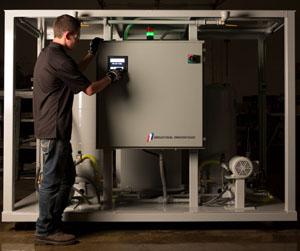 Industrial Innovations recently introduced a new generation of its Spra-Rite lubricant proportional mixing machines with the ability to blend synthetic, semi-synthetic and emulsified lubricants at multiple dilution ratios.
The new Pro-Mix machines feature a controls package that can run single or multiple machines and distribute at pressures up to 500 psi, providing a good solution for mixing and delivery of high-viscosity lubricants. A new operator touchscreen and in-depth maintenance notification system built into the HMI help make this a comprehensive and user-friendly system.
The Pro-Mix can be connected to a network of piping to automatically deliver a continuous supply of pressurized lubricant mixtures to multiple presses. The system features stainless-steel reservoirs for stabilizing liquids prior to mixing and a patented Pro-Drive assembly for thorough mixing, control and pressurizing of the lubricant mixture. Fluid-level status indicators continuously monitor the level of the two fluids and refill on demand or discontinue service if levels reach a low level during operation.
As with previous generations, the machines come in three models: the Pro Mix I, III and V, which are all designed to deliver a precise, reliable and safe lubrication management system. An operator lockout feature ensures that the mixture ratios are set for consistency without modification.
For more information, visit www.industrialinnovations.com.