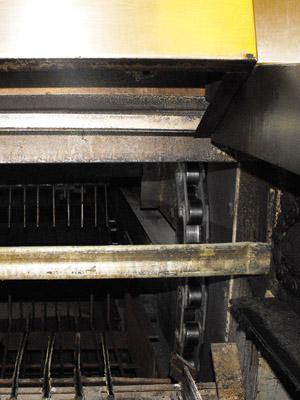 Lubrication Engineers Inc. recently introduced a new synthetic lubricant specifically formulated to combat the demanding conditions present with oven chain applications, including those at food manufacturing plants.
Featuring oxidation stability and reduced volatility at high temperatures, Ovenworx H1 Syn Chain Lubricant (4061) can lubricate chains up to 572 degrees F (300 degrees C). It also seals out damaging moisture, preventing corrosion that can lead to premature failure of oven chain pins and bushings.
The fully synthetic formula incorporates a high-viscosity base fluid to penetrate the moving parts of the oven chain, enabling them to move freely. The reduced frictional drag on electric motors results in smooth, quiet and efficient operation as well as decreased energy use.
Ovenworx H1 Syn is designed to lubricate without the need of solid additives, which can build up over time, creating gum and gunk around the application area, especially when over-applied. Lubricants with solids also must be stirred to keep the solids distributed within the carrier and prevent them from falling out of suspension.
With no pre-mixing required, Ovenworx H1 Syn can be applied to hot oven chains without interrupting operation and leaves no residue. It is ideal for use in high-temperature industrial process and food-processing ovens. Typical applications include automatic lubrication systems for baking ovens, kiln chain drives and skate, stenter and tenter chains.
In addition to meeting the National Sanitation Foundation's criteria for incidental food contact, Ovenworx H1 Syn is certified kosher pareve. The lubricant also contains no artificial dyes and is low-staining and odor-neutral.
For more information, visit www.LElubricants.com.