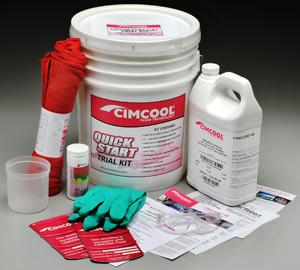 Cimcool Fluid Technology recently announced a new sweepstakes in which the company will buy a year supply of Cimcool fluids for one lucky winner (up to a maximum value of $10,000).
The contest is open to U.S. businesses engaged in the manufacturing industry having operations that utilize metalworking fluids. A purchase is not required to enter or win and will not increase the chances of winning.
The winner will be determined on or about Jan. 5, 2015, through a random drawing conducted by an independent third-party administrator.
To enter the sweepstakes, visit www.winningfluids.com and complete the online form. Entries must be received by Dec. 31, 2014. For full terms and conditions, prize descriptions, and chances of winning, see the official rules at www.winningfluids.com/contest/rules.
Cimcool also recently introduced its new Quick Start Trial Kit. The kit, which includes everything needed to clean out a machine sump and prepare it for new fluid, can be requested by completing and submitting an online form.
Each kit contains Cimclean machine cleaner, cleanout accessories to limit downtime, easy-to-use concentration check tools, a Cimcool reference magnet for machine tools, machine cleanout instructions and other helpful documents.
For more information, visit www.cimcool.com.