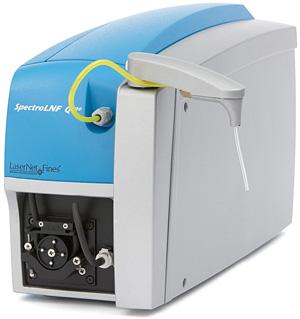 Spectro Scientific recently introduced a new series of instruments for oil analysis, condition monitoring and maintenance and reliability programs.
The LaserNet Fines (LNF) Q200 Series is an analytical platform that offers a particle counter, wear particle classifier and ferrous monitor in one scalable and upgradeable package.
The LNF technology, which was developed through a partnership with the U.S. Navy, provides particle counts and codes, abnormal wear classification, ferrous wear measurement, and free water calculation. The Q200 is simple to use and yields rapid results.
"These instruments allow operators to monitor equipment conditions quickly and easily," explained Brian Mitchell, Spectro Scientific president and CEO. "All devices in the LNF Q200 Series require no calibration and feature an intuitive, easy-to-use GUI so that operator training can be accomplished in hours, not days."
The Q200 series is designed specifically for in-service lubrication oil analysis. The system works on dark fluids containing up to 5 million particles per milliliter or 2 percent soot with automatic laser control. It differentiates between water and air bubbles while also providing error corrections.
The LNF Q200 Series is available in three configurations to best meet the needs of different facilities. The Q210 features a particle counter with the unique capability to segregate wear particles from dirt ingress, while the Q220 adds the LNF automatic shape classifier. The Q230 configuration includes the particle counter, automatic shape classifier and a magnetometer that quantifies and trends ferrous content in the form of an actual calibrated measurement of the ferrous content in parts per million by volume. Viscosity measurement and an automatic sample changer are available on all models.
For more information, visit www.spectrosci.com.