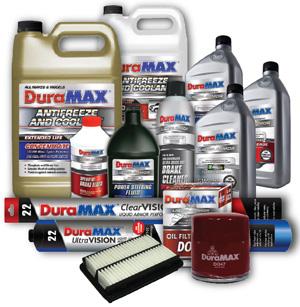 RelaDyne recently announced that is has added a full line of filters to its DuraMax brand of automotive products.
The DuraMax filter line will consist of oil, air, cabin air and fuel filters that are manufactured to meet or exceed original equipment manufacturer (OEM) requirements. The line will also include a dedicated technical support line and online e-catalog search.
"The DuraMax brand has seen steady growth in the automotive market over the last couple of years," says Bob Johnson, automotive sales manager for RelaDyne. "It was only natural for us to include a full line of quality filters in the mix as well."
DuraMax Oil began in 2010 as a line of automotive motor oils and has since expanded to include dexos1-approved oils, automatic transmission fluids, antifreeze, wiper blades, chemicals and a comprehensive offering of value-added solutions for professional installers in the automotive industry. The line of automotive products has become one of RelaDyne's top national brands.
"The DuraMax product line is one of the fastest growing automotive aftermarket brands in the U.S.," says Dan Oehler, vice president of sales and marketing at RelaDyne. "From its inception, DuraMax has been positioned in the marketplace as a brand with high-quality product technology and specifications, premium product imaging and great customer value."
For more information, visit www.reladyne.com.