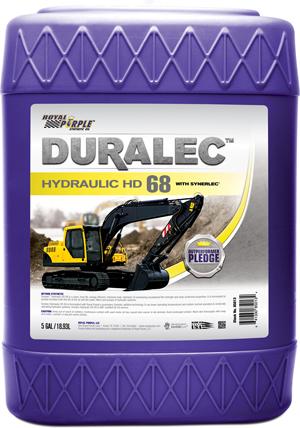 Royal Purple recently introduced a new commercial lubricant product line. The Duralec line of lubricants was specifically developed for the over-the-road trucking, construction, mining, agriculture and heavy-duty fleet markets.
Duralec products include heavy-duty motor oils, transmission fluids, gear oil, multi-purpose grease, coolant additive, tractor fluids, hydraulic fluids and diesel additives. Each lubricant is formulated with premium additive packages for greater protection and performance in high-tech engines regardless of driving and operating conditions.
Duralec Super motor oils are high-performance synthetic engine oils made for diesel engines requiring the use of emissions-compliant oil.
Duralec Ultra is formulated to meet the demands of heavy-duty engines. It is recommended for use in both two-cycle and four-cycle diesel applications including automotive, commercial fleet and stationary industrial diesel engines.
Duralec ATF is a synthetic high-performance automatic transmission fluid designed for demanding operating conditions. Its low coefficient of friction and high film strength help to reduce heat and wear.
Duralec Manual Transmission Fluid is a blend of premium mineral and synthetic lubricants. It promotes greater oil life, smoother brake operation, reduced gear wear, controlled powershift transmission friction and more reliable equipment.
Duralec Gear Oil HD is recommended for use in truck and automotive front or rear differentials, manual transmissions and lower gear units of marine engines that specify use of an API GL-5 or GL-4 fluid.
For more information, visit www.royalpurple.com.