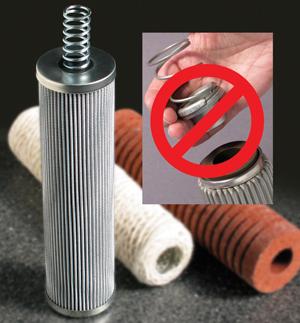 Swift Filters Inc. recently introduced a new series of process filter elements for industrial use.
SwiftProcess Filter Elements employ high-efficiency microfiber glass media to provide a lower pressure drop and higher dirt-loading capacity than traditional string-wound or resin process filter elements.
The new elements feature an integral spring, which replaces previous spring-and-cup designs that were prone to loss during maintenance. The new design eliminates the possibility of cups falling into the filter housing and the nuisance of retrieving them.
SwiftProcess elements are available in the standard industrial format with lengths from 9.65 to 39.9 inches. They are compatible with petroleum-based fluids, water glycols, polyolesters and phosphate esters (EHC fluids). The filtration rating is Bx=200 (ISO 4572) Bx(c)=1000 (ISO 16889).
The filter elements are suitable for power generation applications as well as numerous industrial uses.
Swift Filters Inc. designs and manufactures high-quality replacement filter elements and custom filter elements for a wide variety of industries. For over 40 years it has been certified as an approved source for the U. S. Department of Defense and private aerospace manufacturers. Swift also holds ISO 9001:2008 design certification.
For more information, visit www.swiftfilters.com.