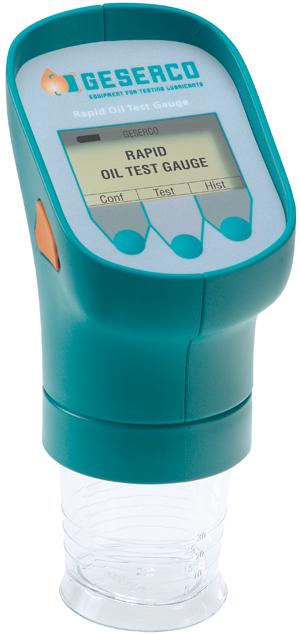 Geserco recently introduced a new digital oil tester for quickly determining water in oil and base number values up to 100.
The Rapid Oil Test Gauge enables measurements to be taken within 3 minutes and incorporates a large digital display that gives step-by-step operating instructions and test results.
Other features include immediate evaluation of test results (pass/fail test function), an audible alarm for excess water in oil and low base number, and automatic time-stamping of results.
The device also comes with built-in memory for recording up to 90 test results, a USB port for downloading test results to a computer and an interchangeable battery.
The gauge is designed to not only provide fast and accurate results for water in oil and base number values but also to make it easier to monitor the condition of used oils over time.
It is well-suited for monitoring the base number depletion of the latest generation of marine cylinder oils, which are formulated with a high base number in order to prevent the corrosion of cylinders.
The Rapid Oil Test Gauge is available individually for either measuring water in oil or base number values, or as a combined tester for both water in oil and base number readings.
For more information, visit www.geserco.fr.