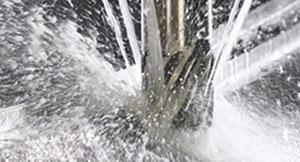 U.S. Lubricants recently introduced a full line of coolants for a wide range of metalworking applications.
Aquaglide 100 series coolants are premium water-dilutable metalworking fluids formulated for use in heavy-duty machining and grinding applications. The unique biostable blends include extreme-pressure (EP) additives, emulsifiers and preservatives that allow a wide operating window and single coolant solution across most machining operations and metal types, including all steels and non-ferrous alloys and most aluminum grades.
Aquaglide 200 series coolants are semi-synthetic metalworking fluids formulated with a special blend of amides, primary emulsifiers and boundary lubricants to deliver performance in machining and grinding operations. Unique EP and anti-weld agents ensure excellent tool life and surface finish with a broad variety of materials, from aluminum to stainless steels.
Aquaglide 300 series coolants are 100-percent-synthetic, water-based metalworking fluids that deliver machining performance at a more economical price point than most competing synthetics. These coolants are effective on aluminum as well as in grinding applications involving cast and nodular iron parts. The unique formulation and specialty additives provide excellent tool life, extended sump life and good hard-water stability, while the oil-rejecting blend of boundary lubricants, corrosion inhibitors and biocides improve machine cleanliness.
For more information, visit www.uslube.com.