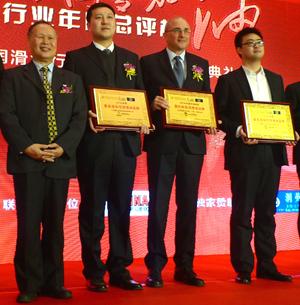 Gulf Oil recently was honored at China's 2014 Lubricant Industry Awards in Beijing as the lubricant brand with the most growth potential.
"The award is really exciting news for us and proves that Gulf is now a premium brand that is being readily accepted in China," said Arthur Liu, general manager of Gulf Oil China. "The award will encourage us to make even greater efforts and investment on developing and marketing the brand and its products in this country. Gulf definitely has a bright future in China. I am confident of that."
More than 50 leading lubricant brands were invited to join the awards competition, in which 186,280 votes were cast from within industry. Brands up for consideration included Mobil, Castrol, Shell, Total, Fuchs and Repsol.
According to Jan Trocki, vice president of strategy for Gulf Oil International, the award is a measure of how far Gulf has come in a relatively short period of time.
"This year, we have opened up new offices in Shanghai and Beijing, set up an OEM-focused team, increased production in our Yantai plant where we are also building a new warehouse, and have almost doubled the size of our distributor network," Trocki noted.
For more information, visit www.gulfoilltd.com.