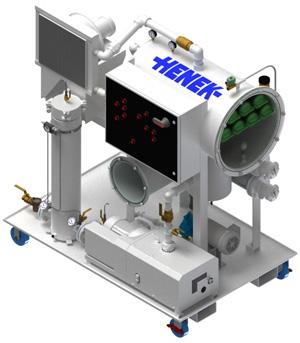 Henek Fluid Purity Systems recently announced the release of a new HEV Series of Econo-Vac vacuum dehydrators with functioning flow rates from 5 to 30 gallons per minute. The vacuum dehydrators will make their commercial debut at Noria's Reliable Plant Conference and Exhibition in Cleveland, Ohio, April 21-23, 2015.
The new Econo-Vac is equipped with unique features to enhance rapid removal of water, gases and particles from lubricating oils while maintaining reduced water consumption and improved oil cleanliness.
The self-contained system boasts a water-removal rate greater than similar designs on the market, conserving precious time when major assets need protection from water entrained in their lubricating oil.
Simple to install, the Econo-Vac requires no hardware for the vacuum chamber elements and has large windows to monitor fluids. Status indicator lights provide an easily viewed indication of operating status, ensuring worry-free operation.
Cost-saving features include an air-cooled vapor condenser and vacuum source design for reducing water consumption. The vacuum chamber elements are manufactured without metal components to decrease disposal costs and can be replaced in minutes.
An automatic condensate drain allows for unmanned operation, eliminating potential oil contamination from manual drains. High oil level shutdown and loss of flow alarms protect the vacuum source and equipment from pump cavitation.
Each model comes with a phase monitor and reversal switch to ensure a correct initial electrical connection. An optional post-filter vessel is also available.
For more information, visit www.henekfps.com.