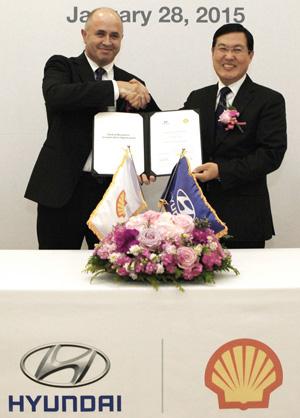 Hyundai Motor Co. and Shell Lubricants recently renewed their agreement for Shell to be recommended as the preferred aftermarket motor oil supplier for Hyundai vehicles worldwide. For the next five years, branded motor oils manufactured by Shell will be recommended in Hyundai workshops and made available to customers in more than 70 countries. The companies have now been cooperating for a decade.
"This agreement means we will continue to supply and jointly develop high-quality motor oils for Hyundai customers underpinned by Shell's technology leadership," said Roger Moulding, vice president of Shell global marketing and global key accounts. "It allows us to create value for both parties through deeper collaboration – be it in products, aftermarket services, marketing or technology. By leveraging the strengths of the two global brands, we aspire to offer Hyundai customers the best aftermarket care and service experience around the world."
The recommendation covers a full range of Shell Helix products, including the latest Shell Helix Ultra with PurePlus Technology. In North America, Quaker State (owned by Shell) branded lubricants will be the brand recommended by Hyundai. The agreement also includes co-branded motor oils available in markets in Asia, such as China, India or Indonesia, as well as Brazil in South America, with new markets to be added in Europe soon.
"This agreement with Shell is broad in scope, supporting the needs of our global aftermarket supply chain, as well as giving rise to new technical collaborations and joint marketing initiatives," said Tak Uk Im, executive vice president and chief operating officer at Hyundai Motor Co. "The common factor in all of these activities is our desire to maximize customer satisfaction in the aftermarket experience. Shell will be a leading partner for us as we implement and enhance our aftermarket strategy over the coming years, helping to drive the qualitative growth of the international Hyundai business."
Shell and Hyundai have agreed to jointly invest in motor oil marketing and customer satisfaction programs as part of this deal. This is in addition to the aftermarket service programs that Shell cooperated with Hyundai to exclusively provide for Hyundai customers. These include free car health checks via the Before Service Program and quick oil change and service via the Quick Service Program.
Shell and Hyundai will also continue to collaborate on technology and innovation, developing new motor oil formulations to meet the needs of Hyundai's expanding range of vehicles.
For more information, visit www.shell.com.