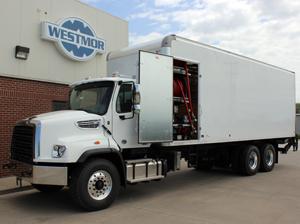 Westmor Industries recently completed engineering, manufacturing and assembly of its first tower-style delivery model lube van.
Compared to the company's side-delivery models, the tower style is intended to be a more ergonomically friendly solution. The lube van is designed to limit operator bending and maneuvering to access hose reels and meters.
While future units will be completely customizable, this particular model is equipped with a 26-foot Model 917 heavy-duty cargo van from Brown Industries. The van features roadside and curbside doors as well as a 5,000-pound capacity lift gate with a 60-by-80-inch platform.
Installed inside the roadside access door is one steel tower housing a bottom and top section with two meters (Liquid Controls M7 Meter), two reels (Hannay Power Rewind 2-inch Series) and two pumps (Roper 3722 Pump with T-strainer).
The lube van is currently available via Westmor's in-stock inventory program at the company's plant in Shawnee, Kansas.
Headquartered in Morris, Minnesota, Westmor Industries is one North America's largest suppliers of fueling equipment, services and parts. The 40-year-old company manufactures and distributes storage, transportation and delivery equipment for a variety of industries, including propane, refined fuels, aviation, carbon dioxide, natural gases and alternative fuels.
For more information, visit westmor-ind.com.