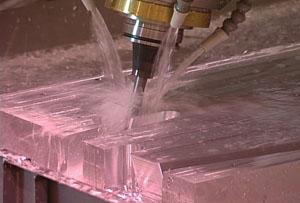 Cimcool Fluid Technology recently announced the release of a new hybrid semi-synthetic metalworking fluid for heavy-duty machining of non-ferrous and ferrous metals, including 6000 and 7000 series aluminum, stainless steels, titanium and other exotic alloys.
Cimperial 861 with InSol Technology can be used for grinding and is formulated to deliver extended sump life. The metalworking fluid, which recently received approval under Boeing BAC5008 RevU, is intended to increase tool life and provide lubricity while remaining low foaming for today's demanding high-pressure applications. It also has low chemical odor and is mild to the skin.
"Cimcool Fluid Technology has developed a hybrid semi-synthetic to maximize tool life without the compromising part quality on aerospace alloys," said Kyle Walker, aerospace product manager. "The hybrid combination of InSol Technology in a semi-synthetic metalworking fluid delivers superior performance when compared to other semi-synthetic or micro-soluble technology. The benefit will be one fluid that handles machining needs by delivering superior cooling and lubricity directly to the point of cut."
By design, Cimperial 861 with InSol Technology is also stain resistant, as tested on 6000 and 7000 series aluminum, titanium and stainless steels alloys.
For more information, visit www.cimcool.com.