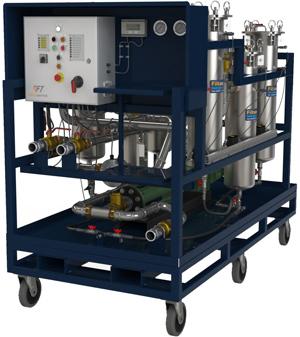 Filtertechnik recently introduced a new range of oil dehydration units for rapid removal of both free and entrained water from hydraulic, lubrication and transformer oils.
With flow rates from 15 to 100 liters per minute, the Neptune oil dehydrators are designed to offer an effective oil cleanup solution, reducing wet oils at several thousand parts per million to less than 100 parts per million.
All four Neptune units are capable of continuous operation and utilize the Filtasorb2 filtration media, which removes particles to ISO 18/16/13 or better and water to less than 100 parts per million and even as low as 50 parts per million for transformer oil.
The NDU-1NX is the entry-level oil dehydration unit with a flow rate of 15 liters per minute. It has the ability to absorb water from a wide range of oils including gear, transformer and hydraulic oils.
The NDU-2NX is the larger brother to the NDU-1NX unit. It features a double-length filter housing and increased flow rate and water absorption capabilities.
The NDU-3NX offers double the capacity of the NDU-2NX model and is suited for larger cleanup applications that require higher flow rates, such as larger marine or hydraulic systems.
The NDU-4NX is the largest Neptune in the range, having four times the double-length filter housings, increased flow rate and increased dirt-holding and water absorption capabilities.
If onsite verification of the cleanliness and water content levels is required, quick-connect fittings allow for instant plug-in to the Particle Pal, which can provide real-time results in minutes.
For more information, visit www.filtertechnik.co.uk.