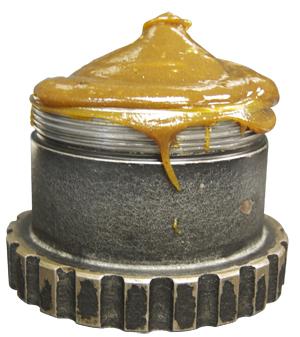 Lubrication Engineers (LE) recently introduced a new wire rope grease that is specifically formulated to be earth-friendly while still meeting the performance demands of industrial applications.
The Earthwise EAL Wire Rope Grease (3353) is a soft, semifluid coating grease that is recommended for use in applications on or near waterways, such as oil-to-sea interfaces and deck applications. A certified environmentally acceptable lubricant, it is readily biodegradable and meets the specifications required by the Environmental Protection Agency's Vessel General Permit.
The grease is designed to coat wire rope as well as moving chain and cable parts to ensure long life and smooth, quiet operation. Its semi-tacky, water-resistant characteristics enable it to adhere to the application, seal out damaging moisture, protect against rust formation and shield against acid attack.
The lubricant's formulation also includes LE's proprietary Almasol and Quinplex additives to further help protect against wear, corrosion, impact, rust and oxidation.
"After extensive field tests, we landed on a product that will help our customers worldwide protect their assets while meeting today's environmental regulations," said John Sander, LE's vice president of technology. "Next up, we will broaden the Earthwise line to include additional types of lubricants."
For more information, visit www.LElubricants.com.