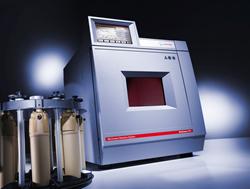 Anton Paar recently developed a new method for preparing lubricants and petroleum products for metals analysis in less than 90 minutes. The Multiwave PRO system performs microwave-assisted, closed-vessel digestion under high-temperature and high-pressure conditions according to the newly released ASTM D7876 standard.
Oil samples are decomposed with concentrated acids in closed-pressure vessels, resulting in a clear, aqueous solution with low residual carbon content.
Previously, laboratories testing petroleum products for metal content used ASTM D5708-B, ASTM D5863-A or IP 501 to prepare samples for analysis, but these methods can be time-consuming and inefficient, with each sample taking as much as 10 hours of preparation. This typically resulted in a turnaround time of two business days. Replacing ASTM D5708-B, ASTM D5863-A or IP 501 with the newly released ASTM D7876 standard can reduce the preparation time to 90 minutes.
"Microwaves are the perfect heating source for ICP sample preparation, as they heat the liquid bulk directly," explains Linda Kuenstl, Anton Paar product manager. "Direct heating means faster heating and shorter preparation times."
New advances in technology have also improved detection limits to the point where large sample masses required for analysis are no longer necessary. Samples are now small enough for use in certain microwave digestion vessels.
To ensure safe operation, the Multiwave PRO system utilizes wireless pressure and temperature sensors, which also make the procedure highly reproducible.
For more information, visit www.anton-paar.com.