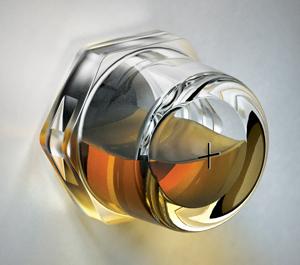 Luneta recently announced the launch of its new Sight Glass, featuring an innovative design that could modernize the traditional view port and 3-D bull's-eye sight glass.
The Luneta Sight Glass is made of Tritan, a crystal-clear, high-performance copolyester that is stronger than bulletproof glass and can withstand the toughest environmental conditions.
The large 360-degree viewing surface has no molded-in obstructions for effortless oil level and visual inspections, allowing critical health conditions of the lubricant and machine to be detected. Etched crosshairs enable at-a-glance oil level checks without the possibility of the level marker fading or wearing off.
The Luneta Sight Glass also incorporates eyelets for attaching lubricant identification tags and a molded-in hex nut for quick and easy installation.
"We believe that Luneta has re-imagined and re-defined the sight glass by turning it into a critical focal point of machine condition monitoring," said Luneta CEO Tom Fitch. "The Sight Glass should not be limited to simple oil level inspections. We see this as an exciting continuation of Luneta's vision to enhance machine reliability through the development of groundbreaking inspection technologies."
Designed primarily for the heavy machinery market, Luneta's technology is used mainly in process plants, including petrochemical, power generation, primary metals, food processing, mining, pulp and paper, pharmaceutical, and cement manufacturing.
For more information, visit www.luneta.com.