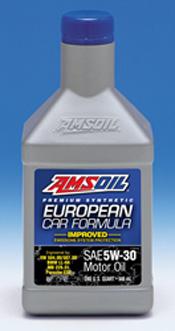 Amsoil recently reformulated its European Car Formula 5W-30 synthetic motor oil to further meet the lubrication needs of modern European gasoline and diesel cars and light trucks.
The synthetic motor oil has been formulated to provide performance and protection for high-performance vehicles made by Volkswagen, Audi, Mercedes-Benz, BMW, Porsche, etc. The oil is thermally stable to keep oil passages clean and promote fluid circulation so turbo bearings stay cool and lubricated.
Engineered with a select additive package and shear-stable synthetic base oils, the new formulation now meets Chrysler MS-11106 (eco-diesel), ACEA C3 and GM dexos2 (diesel) performance specifications. Its mid-sulfated ash, phosphorus and sulfur (SAPS) formulation promotes optimum emissions system performance and life.
The oil's friction modifiers and lighter viscosity help to reduce friction for increased energy throughput to maximize fuel economy. A low pour point protects turbochargers against oil starvation and ensures rapid oil pressure in sub-zero conditions.
Formulated to stay in grade throughout the extended drain intervals recommended by European automakers, the new formula also offers deposit control and wear protection. In addition, it can provide enhanced turbocharger protection in all temperature extremes, while its thermal stability withstands high-temperature/high-speed breakdown.
For more information, visit www.amsoil.com.