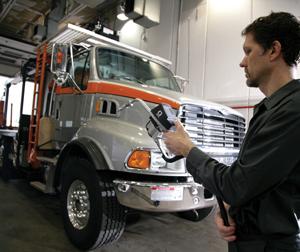 Graco Inc. recently introduced a new fluid management system for a wide range of vehicle service applications.
Suitable for use in automotive, heavy truck, heavy equipment, municipality and fleet service garages, the Matrix system tracks and monitors dispensing and manages the tank inventory of bulk oils, coolant, antifreeze and other fluids.
The system is composed of software, a transceiver to facilitate wireless connection over a secure wireless network, dispense meters, pump air control and tank level monitors. The wireless setup makes installation less labor-intensive than that of wired systems.
The system is designed to help vehicle service providers effectively manage their fluid inventory, ensure the proper amount of fluid is dispensed and create a record of each dispensing. With tank level monitoring, shops can program automatic alerts when fluid is low and automatically set the system to re-order fluid or schedule waste pickup when necessary.
The Matrix is also capable of interfacing with dealer-management systems, allowing for automatic billing, workflow improvements and other efficiencies.
Among the lubrication dispensing equipment suitable for use with the Matrix system include pumps, hose and cord reels, and used fluid handling and reclamation packages.
For more information, visit www.graco.com.