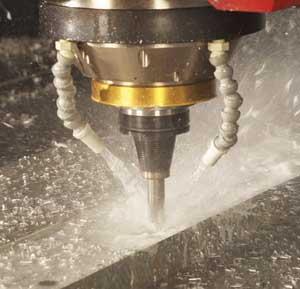 Cimcool recently added a new metalworking fluid to its Cimpulse line. Cimpulse 49MP is an oil-containing, multi-purpose, moderate to heavy-duty fluid for machining and grinding. It is formulated to provide performance without the use of traditional extreme-pressure lubricants.
Like all Cimpulse fluids, Cimpulse 49MP is intended to cover a broad range of applications, allowing customers to use one product across a wide variety of operations. Positioned between Cimpulse 45MP and Cimpulse 51MP, the new fluid is recommended for turning, drilling, milling, reaming, boring, tapping and grinding of most metals.
Ideal in hard-water situations, Cimpulse 49MP has low foaming characteristics and leaves only a light residue. The fluid contains no chlorine or dicyclohexylamine (DCHA) and offers reduced concentrate consumption and carry-off. It is also designed to extend sump life and improve operation cleanliness.
"This is a great product for job shops or large manufacturers wanting to minimize the number of products they have to stock," said Bruce Koehler, Cimcool's senior product and technical services manager. "Our own Milacron manufacturing locations use our Cimpulse fluids, and Cimpulse 49MP was validated on our own metalworking processes. You can't get a better endorsement than using the best fluid in your own facilities."
For more information, visit www.milacron.com.