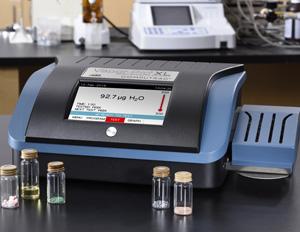 Arizona Instrument recently introduced a new moisture analyzer as a chemical-free alternative to Karl Fischer titration.
The Computrac Vapor Pro XL was designed to build on the success of the company's previous analyzers while incorporating new features to improve repeatability, precision and flexibility, such as a user-friendly touchscreen and an intuitive interface. An upgraded heater also increases the upper limit for testing temperatures to 300 degrees C and allows for better temperature control.
Equipped with stepped temperature testing capabilities for enhanced method development, the Vapor Pro XL is compatible with multiple sizes of sample vials. It can also be used in a wide variety of applications, including almost any in which Karl Fischer titration is employed, from plastics and petroleum products to pharmaceuticals and chemicals.
The moisture analyzer can be utilized in accordance with ASTM D7191-10 (Standard Test Method for Determination of Moisture in Plastics by Relative Humidity Sensor) or ASTM D7546-15 (Standard Test Method for Determination of Moisture in New and In-Service Lubricating Oils and Additives by Relative Humidity Sensor). It also correlates well with popular methods such as ASTM D6304-16, D6869-03, D1364-02, D4017-02, D4928-12, E1064-16, D5530-15 and D4672-12.
For more information, visit www.azic.com/vpr.