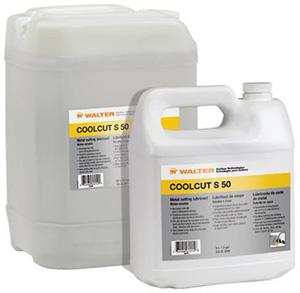 Walter Surface Technologies recently released a new soluble cutting fluid to improve the life of cutting tools.
Intended to help heavy machining and manufacturing shops cut down on production time, which in turn can reduce costs and downtime, Coolcut S-50 is formulated to lessen heat buildup and friction on work pieces, even in tougher applications and on hard-to-machine metals.
Special extreme-pressure (EP) additives in the liquid provide extra lubricity in order to cut materials such as titanium, high-tensile steel and stainless steel, as well as other metals like aluminum and copper alloys. The cutting fluid also provides corrosion protection, is safe to use and will not irritate the skin.
Metal manufacturers can use Coolcut S-50 across the shop floor for a variety of applications, including drilling, milling, reaming, sawing and turning, and in higher-pressure machining processes.
"The fluid forms a very stable emulsion and will increase feed, cutting speed and production so manufacturing shops can perform more cuts faster, all while ensuring better tool life and smooth operation without having to change liquid," said Olga Ivanysenko, associate product manager of environmental solutions at Walter Surface Technologies.
For more information, visit www.walter.com.