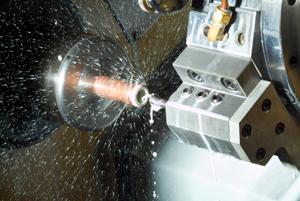 Cimcool Fluid Technology recently introduced a new line of metalworking fluids formulated to increase productivity by up to 20 percent in tube and pipe operations. Cimmill 1350 is designed for moderate-duty roll-forming, threading and cutting operations of ferrous metals.
The synthetic product offers additional lubricity over lighter duty fluids, low foam, good chip settling, clean operations, long sump life, corrosion control and weld-through capabilities. The increased productivity and trouble-free performance help make Cimmill fluids uniquely appropriate for tube and pipe operations.
"We have a history of success in tube and pipe operations, but our new Cimmill fluids — including Cimmill 1350 — are designed to significantly improve productivity," said Bruce Koehler, Cimcool product manager. "Cimmill fluids exceed key performance needs of tube and pipe mills while continuing our commitment to always provide operator-safe products."
All Cimcool products are backed by the company's "no-hassle" performance guarantee and free trial assurance.
For more information, visit www.cimcool.com.