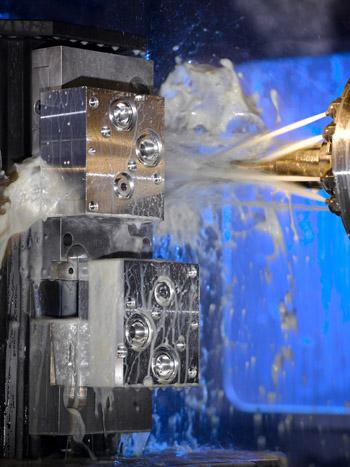 California-based industrial lubricant specialist Chem Arrow recently announced that it will soon introduce an enhanced line of metalworking fluids to meet the latest global legislation intended to protect both the environment and workers' health.
The new ArrowCool line is being designed to offer improved bio-stability, low foam and high lubricity. The technology used to formulate the fluids has enabled Chem Arrow's product development team to eliminate the use of biocide, formaldehyde-releasing agents, secondary amines and boron, which have traditionally been used in metalworking fluids for a number of years, without impairing the coolants' performance. The line is scheduled to be introduced later in 2013.
"With proper maintenance, traditional metalworking fluids offer a service life of approximately six months, whereas Chem Arrow's new ArrowCool range can be used for several years," says Mike Drieseberg, Chem Arrow's vice president of corporate sales. "This significantly reduces costs associated with purchasing replacement fluids and legal disposal of used coolant."
The improved performance of the ArrowCool line can be attributed to a number of factors, including the sophistication of raw materials and developments in product stability.
"High-pressure, high-volume fluid applications have resulted in increased tool life and productivity gains for our customers," Drieseberg notes. "Low-foam technology is imperative for these high-pressure coolant applications. A buildup of foam can impede the metalworking fluid getting to the point of the cut where it's needed. It can also spill over the sump, leading to a slip hazard and increased consumption of fluid."
For more information, visit www.chemarrow.com.