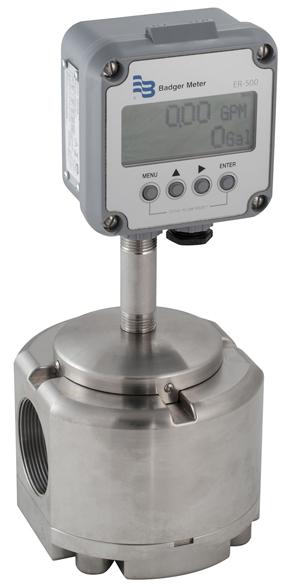 Badger Meter recently introduced a new flow monitor for monitoring flow metrics in the most challenging environments.
The ER-500 offers an alternative to conventional flow monitors in measurement applications involving very viscous or highly corrosive liquids, including petroleum-based fluid measurement and other liquids compatible with the monitored flow sensor.
Equipped with a suite of operating features and advanced connectivity options, the ER-500 allows users to connect meters to a network for remote monitoring and process automation capabilities. Multi-point linearization tables are supported in all models, enabling increased reading accuracy. Robust alarm parameters provide faster warning when a change occurs in the process or pipeline.
"The ER-500 enables users to optimize their flow metering performance, even under the most demanding operating conditions," said Peter Vander Grinten, Badger Meter's marketing manager. "With a wide variety of enclosure options for both liquid and gas applications, including intrinsically safe designs, the flow monitor can meet almost any application requirement. The ER-500 is well-suited for industries ranging from chemical, petrochemical and oil and gas, to water and wastewater, food and beverage, pulp and paper, paints and coatings, and printing."
With an easy-to-use display platform and enhanced totalization options, the flow monitor offers simultaneous display of rate and total, as well as standard, batch and grand totals. The standard communications interface is 4-20 mA and total pulse, while the advanced interface adds two control alarms and Modbus RTU over RS485 connectivity.
The ER-500 also features low power consumption in normal operating conditions with the option for both 4-20 mA loop and battery power. The onboard battery is designed to last in excess of six years.
For more information, visit www.badgermeter.com.