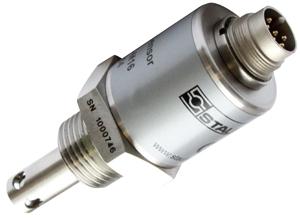 Stauff recently introduced its new Oil Condition Sensor (OCS) to monitor engine oil condition. The OCS is a flexible condition-based monitoring solution designed to be permanently mounted within a lubrication system on any type of machine.
Engineered to be more sensitive to oil contamination than other dielectric constant measuring sensors, the OCS provides real-time monitoring of water and oxidation levels.
The sensor measures contamination in all industrial equipment, including diesel and gas engines, compressors, industrial gear reducers, wind turbines, generator sets and hydraulic systems. Data can be displayed on an existing system or on the Stauff Oil Condition Display (OCD).
By monitoring contamination and moisture, the OCS allows oil to be changed based on need rather than on a set interval. This can lead to saving millions of gallons of oil each year as well as improved equipment reliability, reduced maintenance costs and scheduled downtime intervals for increased productivity.
The OCS, which is resistant to high temperatures and pressures up to 20 bar, measures the energy loss component of oil permittivity. All contaminants, such as metallic particles, soot, water, oxidization, glycol and burnt fuel dilution, increase this measured value.
For more information, visit www.stauff.com.